Discover more from Swordfights & Spaceflights
A group of speculative fiction, sci-fi, and fantasy writers provide you with monthly news, writing & publishing tips, personal essays, and more!
Last Minute Gift (Book) Buying Guide
AKA Buy Books by the Swordfights & Spaceflights Crew
It's the holiday season… and whoop-dee-do and a dickory-dock… I know you know the song. But if you don't… have a listen!
It's also last minute shopping for many as the clock strikes midnight on the 25th and someone starts packing gifts under the tree.
If you haven't already thought about it, for the reader in your life, an e-reader filled with electronic books that they can take anywhere is a wonderful gift. Of course, those of us who read also like physical copies so a paperback or hardback are wonderful gifts too! One unsung aspect of publishing that you may also want to gift is an audio book. It allows those of us with little time to listen while doing menial work, chores, driving, and is an all around accessible gift for many during the busy holidays. Not to mention, if you don't know what to get, a gift card from your favorite bookstore, or even Amazon, may go a long way for the reader in your life.
Just in case you need some ideas, though… Here's a comprehensive list of the books that the Swordfights & Spaceflights crew has published. In no particular order….
Erebus Dawning: Seven Stars Saga, Book One
Nyx Marcus wants the Star of Erebus and has come up empty-handed. As Malcam, her father's First Officer, mutinies, she flees and discovers that the planet-killing weapon is more than what it seems. Erebus is an ancient AI and a technological god.

With the oppressive Queen of the Protectorate and new pirate captain Malcam searching for Erebus, the god wakes dormant AI code in Nyx's blood. Now, Nyx must learn to control her power without sacrificing her humanity or giving her enemies a new way to oppress the known universe.
Available on Amazon in Paperback, Ebook, and Audio Book
A Star Reborn: Seven Stars Saga, Book Two
AI/human hybrid Nyx Marcus will stop at nothing to find her sisters, who were taken by the new Protectorate. She'll even use her powers to their fullest… and deadliest. Discovering more AI family members, Nyx navigates building an army to rescue her sisters.
When Nyx discovers a new rival pulling the Protectorate's strings, she finally has nothing to lose. Followed by a burgeoning cult and a clone army, Nyx has the power to wage another AI War. She must choose to use her power to protect her family, or to burn it all down for revenge.
Available on Amazon in Paperback, Ebook, and Audio Book
---
The Warrior Witch Duology
A princess with a powerful and dangerous secret must find a way to save her country from ruthless invaders in this exciting debut fantasy duology packed with heroism, treachery, magic, and war.
The Frozen Crown available on Amazon
The Seventh Queen available on Amazon
---
Draft-dodger Dan Hardacre struggles to find a place in the Utopic rebuild of New York City. One night, he experiences a vivid nightmare placing him on the front lines of the war. Ending with him face-to-face with Death in the form of a metallic creature that calls itself the Valkyrie. His estranged father reveals the startling truth about Dan's dream: it was real. With this newfound knowledge and the powers it brings, Dan returns to the scene of his nightmare. However, confronting the Valkyrie not only endangers him but the world he leaves behind.
Available through Amazon US, Amazon UK, Beaten Track Publishing, Waterstones, Apple Store, Smashwords
---
Humanity has expanded into the stars, and its relationship with new, alien neighbors is strained at best. In a tense galactic political climate, a human intelligence officer is tasked with investigating a new terrorist organization, an alien scientist's stubborn idealism walks him right into danger, and a hardened alien bounty hunter takes an assassination job in a desperate attempt to escape her royal family. Their paths intersect in the crosshairs of a secretive group who will stop at nothing to destroy the fragile peace. Don't miss this space opera thrill ride, filled with explosive action, characters that leap off the pages, and plenty of mystery.
Buy Links available at CaseyBergerBooks.com
---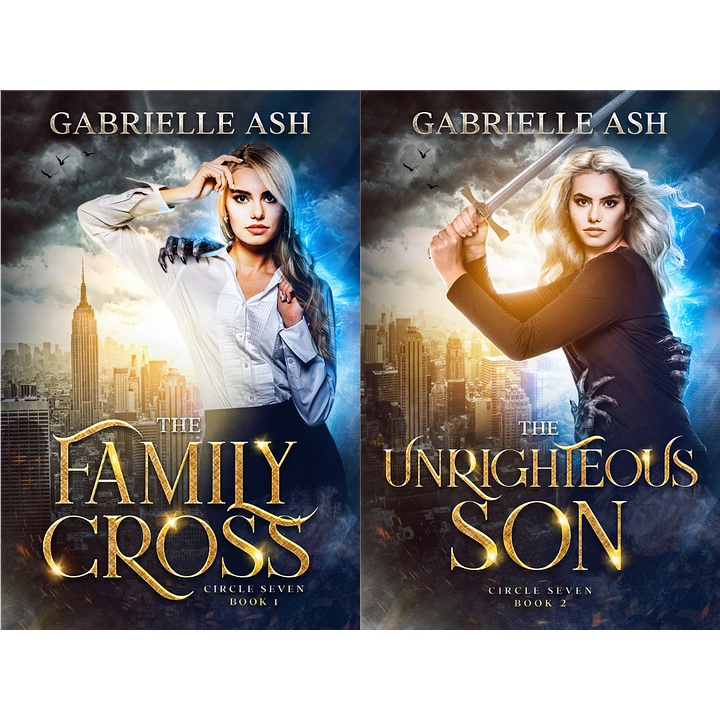 The Family Cross (Book 1)
A business heiress being hunted by shapeshifting fae assassins must team up with a telepathic criminal to discover who put a contract on her life, which leads to questions about who the real monsters are among her family and friends.
The Unrighteous Son (Book 2)
A business heiress sets out to find her telepathic-criminal-turned-friend when she discovers he's in danger, which leads to her having to push past her human limits and question where she fits in the world now that she knows monsters exist.
For the Murder (Book 1)
A crow shifter without a murder and a clairvoyant without a future temporarily join forces to steal a hell-forged blade, but a relationship that starts as a means to an end gets complicated when they're magically bound for life.
Murder for Hire (Book 2)
A crow shifter and a clairvoyant on the run from supernatural creatures big, small, and ugly are hired to kill a demon preying on a murder of crow shifters, but what starts as a job gets complicated when old emotional wounds put a strain on their magical bond.
---
Veteran and private investigator, Marcel Talwar knows firsthand what some will do to protect their interests. His naïve belief that he's above such things crashes to an end when he takes on a new case. The trail of evidence points to someone he knows, someone conducting grisly experiments that could lead to genocide.
Now, Marcel is more determined than ever to discover who's pulling the strings. But the further he gets, the larger the target on his back, and it's not long before Marcel has to ask himself how much he's willing to sacrifice for the truth.
---
Lodestone
Lodestone-peddler Melaine is desperate to stop hustling her raw magic for a tuppence. Her rare gift of infusing her magic into a lodestone to sell for another's use and never keeping any for herself is nothing but a degrading path to an early grave.
Yearning for a better life, Melaine pledges her magic to the powerful but sinister Overlord, sorcerer-ruler of Highstrong Keep. But the haunted castle may hold far worse dangers than the reclusive ruler.
Can two dark hearts find the light?
The Hand-Me-Down Maiden
It's 1921, and for Guy Barrett, "home" is a suitcase as he jumps from city to city to oversee hotel openings. Still, his hectic life of travel beats the orphanage where he spent his childhood. But when he learns that his long-lost parents died and bequeathed him their mansion and estate, Guy rushes to the small town of Wakeforest. What he finds is a tacky mansion—a patchwork of architecture from three different centuries—and a young, beautiful caretaker who claims to have lived there for 261 years.
---
One Day as a Lion: Gordian Knot Book One
Technical Chief "Pappy" Gunther is a burned-out commando in the United Earth Armed Forces. When colonists on a far-flung world request aid, Pappy's crack unit is sent to engage a mysterious alien force.

Talks-To-His-Spear is the warrior-caste champion of a matriarchal space empire called the Regime. Devoted to his Queen, he begins to question the motives of this new campaign, and fears that he may have to compromise his own deep sense of honor to fulfill his tasks.

When Pappy and Talks-To-His-Spear discover a rebellion threatening to tear apart the Regime, the fate of the galaxy hangs in the balance.
Sowing the Dragon's Teeth: Gordian Knot Book Two
Newly-promoted Warrant Officer "Pappy" Gunther trains the next generation of UEAF as the Regime gains ground. When a commander from his past asks him to join a black-ops unit, Pappy must make his choice.

Speaks-The-Truth is haunted by the past, and despite a chance to live peacefully, joins the greatest struggle in the history of her people, fearing she cannot escape her destiny.

Dreams of violence disturb newly-reincarnated King Momak, the ceremonial father of the Regime. His mysterious past leads to important insight into the origins of his civilization. Now, Momak seeks a way to prevent its inevitable destruction.
The Sword of Damocles: Gordian Knot Book Three
Pappy and his team join a military coalition traveling to Regime space to fight the enemy directly. They have no idea what awaits, and Pappy's concerns multiply the closer they get to the Regime's Homeworld.

Speaks-The-Truth's growing feelings of disillusionment and doubt plague her. She must find a way to regain what she's lost through the Resistance.

Tensions grow in the capital as the Regime's Queen consolidates her power. Momak seeks the courage to not only defy his queen but to enact a final bold plan which could either save the Regime or doom it.
---
A high-stakes fantasy heist duology set in a gritty world of magic and malice. Ryia, a mercenary with a dark past, teams up with a motley crew of criminals, thieves, and smugglers to steal a powerful artifact. But as shifting loyalties and ulterior motives surface, this simple heist reveals a plot that just might unravel all the kingdoms of the world.
Among Thieves available with Simon & Schuster
Thick as Thieves available with Simon & Schuster
---
Thanks for reading Swordfights & Spaceflights! Subscribe for free to receive new posts and support our work.